Tunisia has declared a state of emergency, just over a week after 38 tourists, mainly Britons, died in an attack in the resort city of Sousse.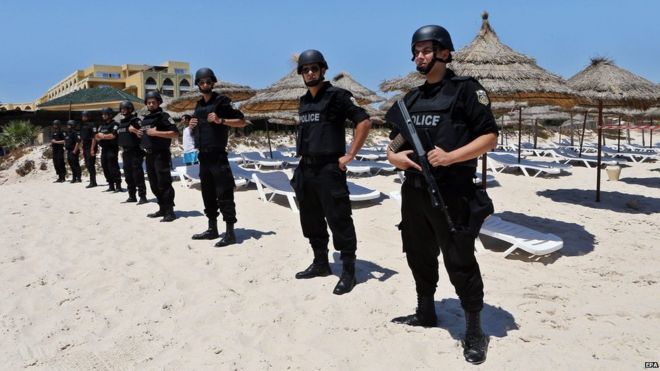 The state of emergency gives security forces more powers and limits the right of public assembly.
Authorities had already tightened security in the wake of the attack on 26 June, deploying armed officers at hotels and beaches.
Tunisian President Beji Caid Essebsi is due to address the nation later.
Security forces were criticised for not responding more quickly to the attack in Sousse, when a gunman opened fire on tourists on a beach before entering a hotel.
Islamic State (IS) said it was behind the attack, the most deadly in Tunisia's recent history. Those killed included 30 Britons.
In March, two gunmen killed 22 people at the renowned Bardo museum in Tunisia's capital, Tunis.
Analysts say Tunisia has been put at risk by the chaotic situation in neighbouring Libya, and by the threat posed by Tunisians who have gone to fight in Syria and Iraq returning home.
The last time Tunisia declared a state of emergency was in 2011, in the uprising which overthrew President Zine al-Abidine Ben Ali.