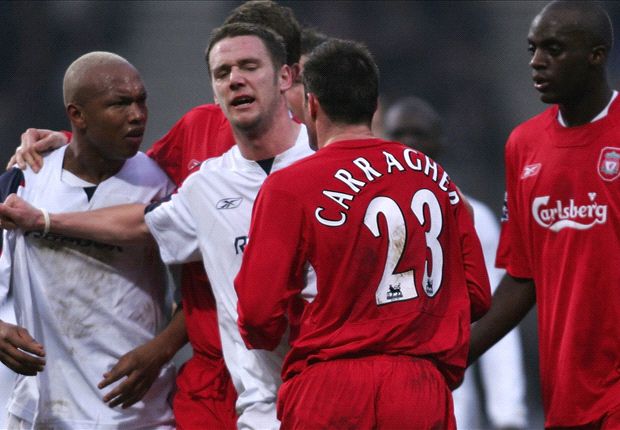 The former Senegal striker was far from complimentary when it came to describing the defender turned pundit and also branded Steven Gerrard as "selfish"
El Hadji Diouf is not known for mincing his words, and the former Liverpool star has again not held back in his criticism of those he shared a dressing room with.
The ex-Senegal international has previously been critical of both Steven Gerrard and Jamie Carragher, and his latest jibes against the pair suggest the hatchet is yet to be buried.
In an interview with
SoFoot
, Diouf claims Carragher is the person he would least like to spend Christmas with before claiming the defender was the biggest turkey he had ever seen on a football field.
"Jamie Carragher. I found him very bad," he said when asked to name the biggest turkey he had seen.
Diouf was then asked to act as Santa Claus and offer a gift to Steven Gerrard, but the former Blackburn Rovers forward instead slammed the Liverpool legend for only caring about himself.
He added: "A great club player, but selfish. He did not care if Liverpool won, all that mattered was his own brand.
"And I would offer him a stay in Senegal so he can see that I am the king at home."